I am giving away IRL marimos to some lucky patrons!
When Snowy Escape came out I was so excited to see they had included marimo aquariums in the pack! Before I dipped my toes into making CC for Sims 4, I poured my creativity into making crafting kits that I sold from a mobile trailer and to local boutiques. One of these kits was a little DIY marimo aquarium! I had a few marimo "homes" to choose from but my favorite was a one that looked like a glass light bulb.
I recreated this for the game and added lots of interactions for kids and toddlers that build skills and fill motives. Child sims can even name their marimo pet! But I am also sharing these fun algae balls in another way – I am going to give out IRL marimos to some lucky patrons! After closing up my shop to focus on making CC, I still had a marimos left which have been sitting in my crafting closet just begging to be on display again. I wish I could give them to everybody, but these bad boys are pricey and imported from Japan so I only have the 20 left to give out.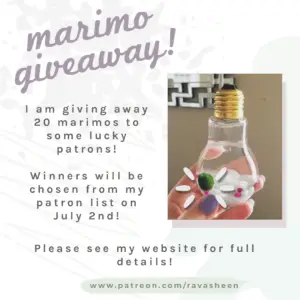 Fixes, updates, and improvements list in September 2022! Please read the post for the details and links to everything you need to update & replace!