While I was making the cupcake factory replacement I wanted to make sure the crafted recipes worked properly. I found that I continuously had route fails when I tried to decorate some of the items. Frustrated, I turned to google to figure out what was wrong and I found that so many others had the same problem!
Not only are simmies having problems decorating baked goods, but they also ran into issues trying to place candles and toppers on cakes. I looked into the code and saw that these interactions have a very specific set of requirements that must be met in order for your sim to do them.
To prevent you from going crazy trying to decorate a cupcake, I added a 'Pastry Placement Helper' to the A-Dough-Able Cupcake Maker set. This will let you choose from available baked goods in the world (not an inventory) and have your sim move it into a valid spot where you can add toppers and decorate without route fails!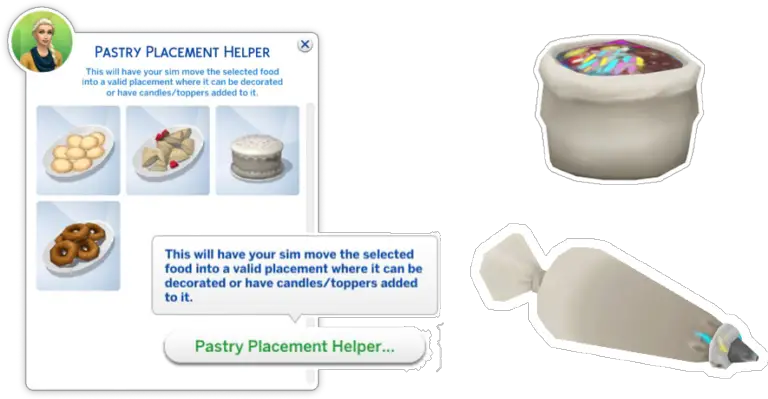 If you don't want to use this item, here are a few tips about getting these guys into the right spot for decorating:
Adding Cake Candles/Toppers
The slot requirement are the tricky ones and cause the most hair-pulling. These slots are only on some counter styles (typically not the end pieces). The baked goods can go into a ton of other slots around this 'slot_StandIndividual' making it hard to get in the right place.
To give you a visual, below is a comparison of how many non-valid vs. valid decorating slots there are on a counter. There are far more invalid slot-types compared to the two valid options. Note – these slots vary with other counters and styles.
Valid decorating slot comparison
I hope these tips helped! If you still can't get the baked goods to the right place for these interactions to work, then use the Pastry Placement Helper which will make your sim put it in the right place for you!
The placement helper is part of the A-Dough-Able Cupcake Maker which is out now for patrons with a public release of July 21!
Fixes, updates, and improvements list in September 2022! Please read the post for the details and links to everything you need to update & replace!